Details
Updated Version - now shipping
The Tilt'n Turner can be rotated, the angle adjusted, and any device equipped with a Quick Release Plate can attach to it. It does not really have an "arm".
It has a small footprint and is useful for positioning devices at a specific angle and height.
It can be used in conjunction with another Mount'n Mover Arm, whether that be a Dual Arm or a Single Arm, by attaching Tilt'n Turner to the top of the post if the post extends up above the Arm.
Tilt'n Turner Features
1 joint with 24 potential lock positions
The single Lever unlocks the Device/Wrist
The Lever takes slightly greater force, but could be extended for better leverage
The Tilt adjusts from flat to vertical and can be locked at any position in-between
Most compact, does not swingaway
Extension
0 cm from shoulder to wrist joint as there is no "Arm"
Tilt from 0° to 110°
User Controls
Easy-access, one-handed operation
The Lever unlocks wrist only
Includced Tilt lock lever
Effort to unlock and move
Less than 1kg of force to unlock
The force to move Tilt'n Tuner varies with device weight
An Adjustable friction screw changes force required to move it
Less than 0.5 kg of forice to unlock the tilt
The force to adjust the tilt depends on torque hinge selected (high force or low force options)
Reach required to reposition
Allows a person to rotate their device or tray 360 degrees
Only accessible on the side of the wheelchair to which it is mounted.
The Tilt'n Turner is recommended for:
Smaller devices that are to be positioned on a post, just in front of the armrest
To create a "double decker", placing a second device atop the post of a Dual or Single Arm Mount'n Mover (additional parts will be required)
For "double decker" operation which enables someone to do two things concurrently (ie, read and use a laptop), the post must extend above the other arm (additional parts will be required)
Attachment to a table to position a tray or other device at a good operating height (additional parts be required)
For a person with a visual impairment
A workstation where you need something off the table surface, positioned at a particular height, angle and orientation (additional parts will be required)
A workstation where you'd like to attach one or more trays or devices to create a turntable effect; and have it lock in particular positions (additional parts will be required)
The 2016 Improvements and Updates (Dual Arm shown below)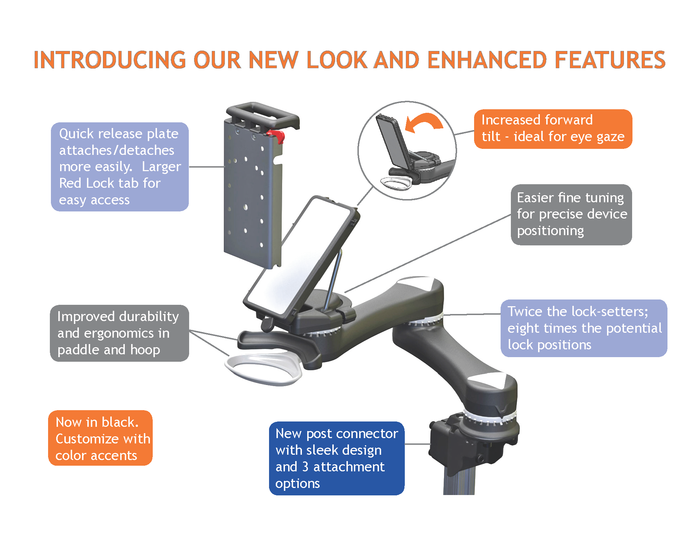 You may also be interested in the following product(s)
| | | | | |
| --- | --- | --- | --- | --- |
| | | | | |
Additional Information
SKU
BSD-M0-TQ
Included Accessories
No
Additional Features
No
GST Classification
GST Free
Manual or Instructions (PDF)

Dimensions

Height: 4.3 inches (109.5mm)
Width: 3.0 inches (77.2mm)
Length: 7.2 inches (182.3mm)
Weight: 2 pounds




Material(s)

Electroless Nickel and Stainless Steels
Anodized aircraft-grade Aluminum
Engineering Plastics




What's in the box?

Mount'n Mover
1x Quick Release Plate (QRP)
Tools:

3/16" Hex Key
1/16" Hex Key

One penny as a lock-setting tool
Mount'n Mover Quick Guide
Mount'n Mover Hang Tag
Warranty registration card

Video

Overview Video

Materials Used
Die-Cast Magnesium Alloy, Electroless Nickel and Stainless Steels, Anodized aircraft-grade Aluminum, Engineering Plastics
Tube Size Used
No
Weight Capacity
No
Vertical Height from Frame Clamp
dependent upon what's required - from 12" to 24"
Horizontal Tube Width
n/a